Learning Genie ECE Distance Learning Webinar Series
Empowering Teachers and Families to Continue Education and Convert to DRDP Evidence and In-Kind Funds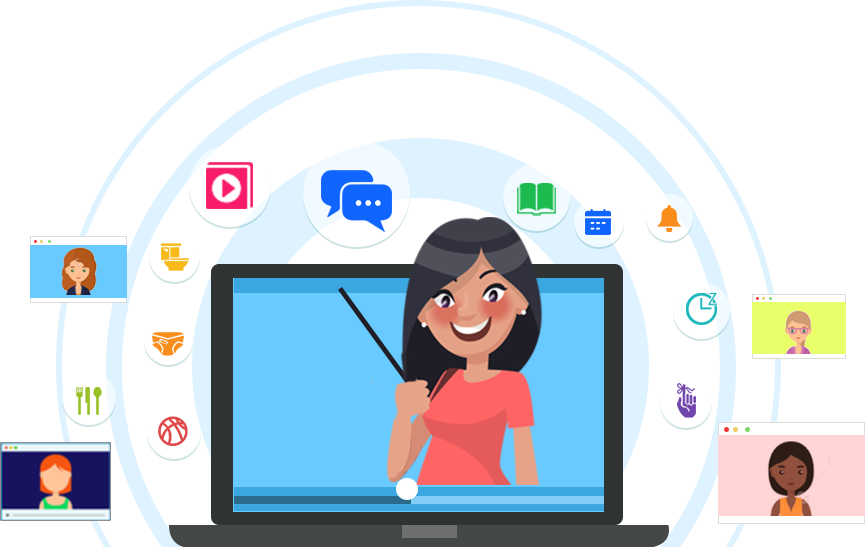 Wow, what a crazy transition this has been the last couple weeks! Many educators have reached out to us asking for resources to support families and continue their children's education. We have been working around the clock brainstorming, researching, and building content to support you, and here we would like to announce our plan. We are opening up a free webinar series entitled Learning Genie's At-Home Learning Series: Empowering Teachers and Families to Continue Education and Convert to DRDP Evidence and In-Kind Funds.
This series offers 4 webinar topics you can sign up for, and multiple time slots for each. Sign up for any or all of them by clicking on the titles, and if you attend you will be able to receive a certificate of participation, after you complete a brief survey.
How to Generate digital In-kind through Distance Learning



This webinar is designed for Head Start programs who collect in-kind funding. The In-Kind module on Learning Genie is not included with the Contingency Communication Grant, however agencies may elect to begin using it through a pilot program.
During this webinar we will review the following:
How an agency can personalize the in-kind activities and settings in Learning Genie, and align them to developmental domains (ELOF or any other assessment framework)
How to share activities with families through Activity links, PDFs, text descriptions or photo.
How families submit and sign activities in Learning Genie
How teachers and admins can approve activities and run reports.
How teachers and admins can use the In-Kind Dashboard to view submissions categorized by developmental domain
Turning Families' Observations into DRDP Evidence for Portfolios
During this webinar we will review the following:
Great activities teachers can send home to families through the Learning Genie app.
How to coach families how to observe children with rich documentation, including text descriptions and media.
How to turn families' messages into portfolio notes with one tap.
Essential Toolkit for Distance Learning and Communication using Learning Genie

During this webinar we will review the following:

Overall strategies and tools to engage families without overwhelming them
How to use Activities, Events, Video Books, and Learning Media to enhance children's learning at home
How to use Zoom meetings to create a virtual classroom lesson
How to record your own YouTube videos and create a personal channel to share with families
How to track parent usage and determine family needs
Creating a YouTube Channel for Remote Learning and Inviting Families through Learning Genie

During this webinar we will review the following:
How to create your own YouTube channel for free
How to add YouTube content into a customized channel on Learning Genie.
How to share your YouTube videos through Learning Genie, and send reminder notifications to families
How to track family engagement with the material you send
How to determine effectiveness of content and adapt to families' needs
Want to just start learning on your own?
Five Practical Tips for Effective Distance Learning
Tip 1
Schedule virtual classroom sessions for story time, circle time activities.
Teachers can set up a Zoom video meeting for virtual classroom sessions. Zoom made it free for education entities during this Covid-19 outbreak. See Zoom resources here.
Teachers can use the Learning Genie Events feature to schedule a virtual event with parents with detailed instructions, a meeting link, and pictures. The event will be sent to parents via notification and an email, and automatically synced with parents' calendar. See sample screenshots below. Learn how to use the event feature from this Event Feature Tutorial Video.
Parents can RSVP, add comments and join the session remotely by clicking on the link on the event on the Learning Genie Parent app or email invitation. Here is a playlist of tutorial videos for parents to use the Learning Genie app.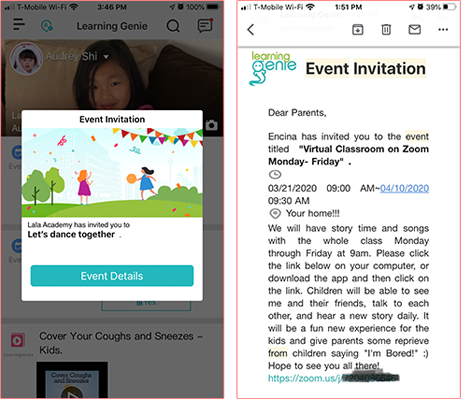 Tip 2
Share pre-recorded videos.
Teachers can pre-record instructional videos and upload to an unlisted YouTube channel or Google Drive. Here's a tutorial on how to create your own YouTube Channel
Teachers can share the video link in the Learning Genie app via activity feature or event feature. See sample screenshots below.
Parents can participate in these activities at their own pace and time.
Tip 4
Turn at-home learning into DRDP evidence and/or in-kind funds.
Parents can take observations of children's learning activities and send them back to teachers via the two-way messaging. Teachers can save these directly into portfolio drafts, simply by holding their finger over the message.
For Head Start agencies, parents can submit activities via the In-Kind feature to be counted as In-Kind. If your agency hasn't set-up your in-kind module, contact us to get set up!
Tip 3
Share at-home learning activities, video books, and Learning Media resources
Teachers can share at-home Learning Activity flyers, resources, and links via the Activity feature.
Teachers can share Video Books and Learning Media resources on health routine, music movement etc. from the Learning Medial channel.
Staff can share other resources eg. food pick up locations, community resources via the event or other feature.
Parents can view these resources and do activities with children at home.
Tip 5
Admins can reach out and monitor engagement.
Admins can send out school-wide notifications to all families or select sites though the School Message feature.
Admin can monitor families' engagement with the Family Engagement Dashboard.
Admins can send out Google Form links through Learning Genie's School Message to survey families and learn their needs.
Upcoming
We will also be releasing a feature to allow agencies to customize their own Learning Media channel within Learning Genie next week! Stay tuned! We look forward to partnering with you as we navigate this new terrain together. We are here for you!