Learning Genie's Top-Notch Data Security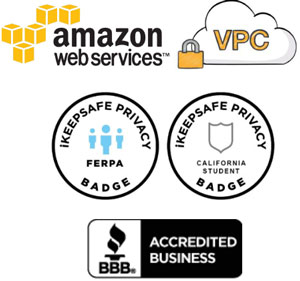 Here at Learning Genie, we understand that our users are dealing with extremely important and private student records, and we do not take that lightly. We are constantly striving to provide the most secure and safe platform for Early Childhood Educators. Some of the measures we have taken to achieve that are:
We fully comply with FERPA, AB1514, SOPIPA regulations. 
All data are encrypted. We use Amazon Web Service's "Virtual Private Cloud" along with "Secure Socket Layering" to keep your information secure.
We have obtained the California iKeepSafe badge and Cyber Insurance Security
Accredited by the Better Business Bureau
Learning Genie's Top-Notch Data Security
Additionally, this past year, we introduced a new privacy feature to our app that protects student photos from being shared with other classmate's families if they have not given consent. This feature reminds teachers which student's families have not given consent, and makes it easy to blur the face of that child in the photo being sent out to families.