All-in-One Data Driven Family Engagement Suite
Auto-generated Real Time Data for Continuous Quality Improvement
Learning Genie offers an All-in-One Data Driven Family Engagement Suite featuring two-way communication with auto-translation, family engagement tool, digital In-kind tool, and versatile survey tool. The dashboard provides auto-generated real-time data for Head Start admins for Continuous Quality Improvement. We are proudly serving over 200 HS agencies nationwide with proven results.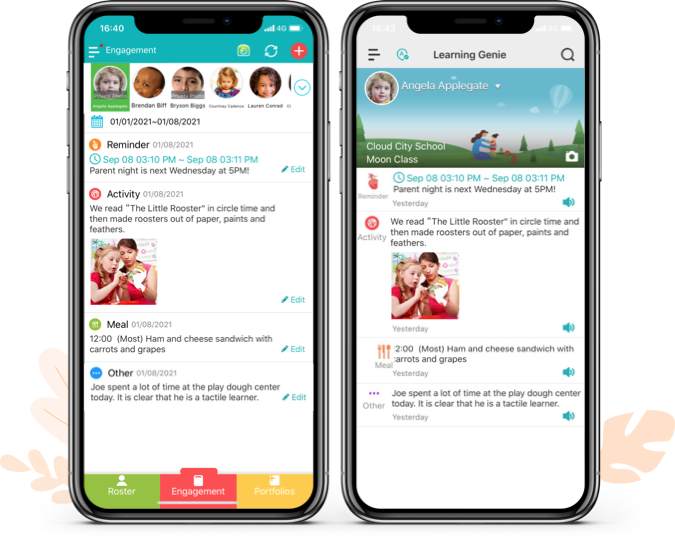 Family Engagement Module
The

Family Engagement

module features

streamlined activity posts, two-way communications

, agency wide

push notification, event feature for RSVP of on-site or virtual event attendance, reminder

integrated with parent's calendar, as well as a rich set of Head Start approved

Digital Children's Book

.
All postings from agency can be

auto- translated in 104 languages at parent's choice.
In-Kind Module
Teachers choose from a pre-loaded, custom library to

assign at-home activities to parents

. Parents just add time and

digitally sign and submit for review by staff

. It enhances the submission and approval efficiency with real time data and reports for In-kind management.
Mileage, volunteer activities, and community donations

can be added easily on mobile app or web.
Real time display of data

on the dashboard for review and monitoring, and ready to be used by fiscal department.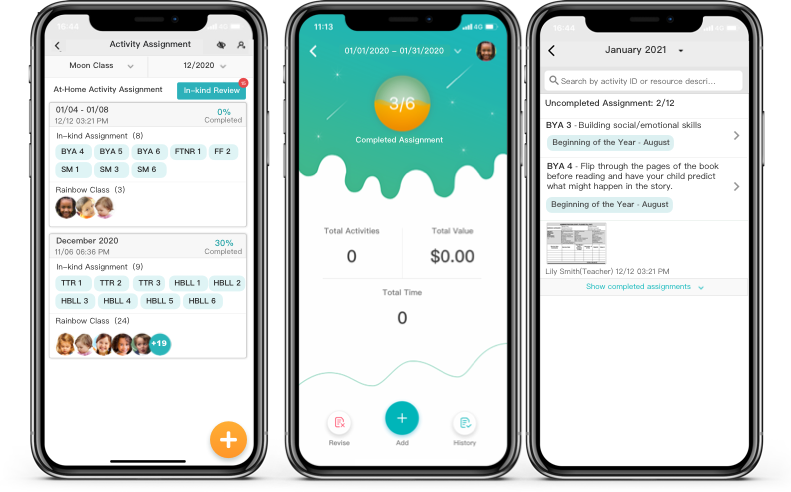 In-kind dashboard generates rich analysis on the Head Start Early Learning Outcomes Framework domains and hours spent on at-home activities and other in-kind.
The

auto-generated

real-time data tool can power teacher, family service staff, agency admin for

continuous quality monitoring and improvements.
Survey Module
Survey Module features both anonymous survey (
agency-wide satisfaction survey
) or
short questionnaire
by teachers or site admin to learn parents' needs or preferences. Parents can easily fill out surveys directly on the parent app. With the combination of demographic information (imported from roster sync), survey reports can be easily generated with
demographic analysis
, combined with family engagement data. Staff could press
a single tap to remind parents
to complete the survey if not submitted yet.
Data-driven All-in-One Family Engagement Dashboard
The dashboard provides a very powerful
real-time data environment
indicating how parents are engaged with the agency. The snapshot of weekly, monthly data on parents' participation in communications, events, as well as hours of digital book reading etc give a fast overview of how parents are engaging at
agency level, site level, or class level.
Private and Secure
Certified by iKeepSafe for FERPA and

SOPIPA compliance.

Adheres to all Federal and state laws that govern student data, especially

HIPAA compliant

SIS Roster Integration Ready
Roster Integration Using OneRoster Standard-compatible with any Student Information System such as Aeries, PowerSchool, Infinite Campus, and other rosters that can be exported into CSV format. We enable fast teacher and parent onboarding experience.

Learning Genie Partners
Learning Genie is committed to provide high quality product and services to early childhood educators. We are currently a proud partner of 40+ College Lab Schools/Centers in California, including San Diego City College Child Development Lab Center, Fullerton College Lab School, Long Beach City College Lab School, Bakersfield College Lab School, and Napa Valley College Lab School, to name a few. Learning Genie is also a proud partner of San Diego AEYC and Florida AEYC.
Our Blog
Read our latest guides, tips, and guides to help you unlock the potential of every child.