Contactless Sign-in Combine Attendance of Distance Learning & Blended Learning
Reduce the risk of contact and Burden of Sanitizing of Pens and Binders. Real dynamic signature technology with true signatures approved by Childcare Licensing and Funding.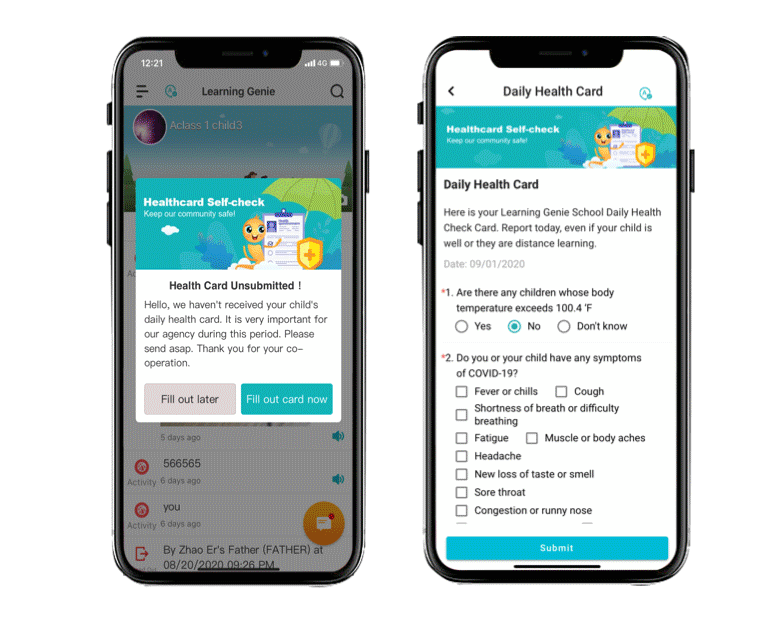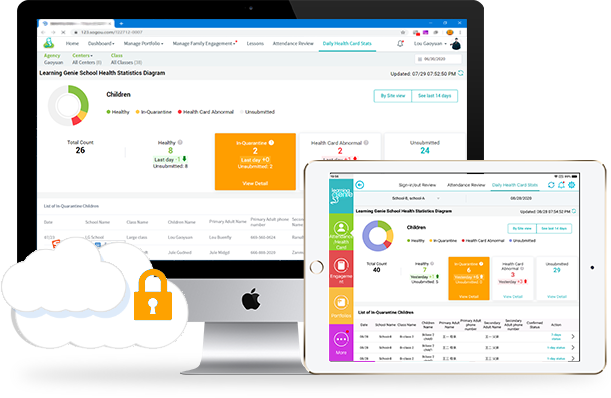 Digital Health Questionnaire Support Data-Driven Decisions
Access a single dashboard for leaders to make informed decisions based on real-time data.

Quickly identify at-risk individuals and spot patterns and trends as they emerge with our dynamic reporting dashboard. All data collected is automatically and instantly stored securely in the cloud.

All data is HIPAA compliant for added privacy and peace of mind.

Data is easily integrated with most student information systems and can easily be used for communication notification systems.
Take Effective Action Based on Insights
Monitor and manage the moment someone logs symptoms or a fever so you can provide timely and reponsive follow-up and support.
Address cases as they happen to minimize spread and manage student and staff health and safety.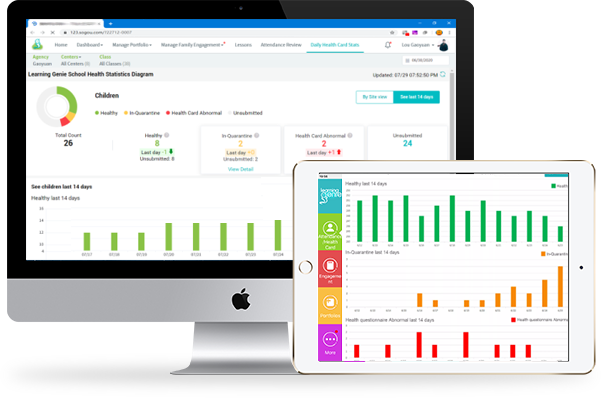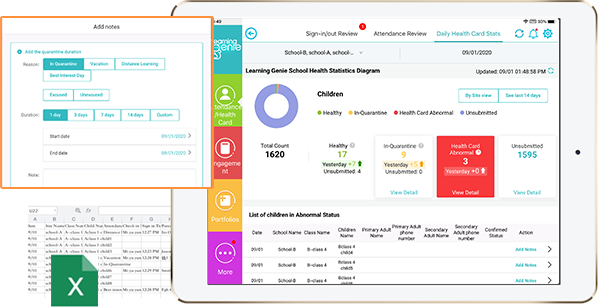 Keep Your Students and Staff Safe and Your Families Informed
The Learning Genie Health Dashboard is built to protect your students and staff and help your district keep your families and community informed.

Adhere to screening and social distancing regulations.

Help provide peace of mind and instill confidence within your school community.
Manage Health, Safety and Preparedness to Re-open
As schools reopen, new processes and procedures are critical to minimizing the spread of the disease and protecting your students and staff.
The Learning Genie Health Dashboard empowers administrators and those managing returning students and staff to school sites in making data-driven decisions based on real time, tailored, health data about their school sites.
Monitor student and staff wellness, as well as track school site preparedness and readiness to reopen.
Learning Genie's Daily Health Card comes with everything you need to start screening today, ensuring you're in compliance and keeping your staff and students safe.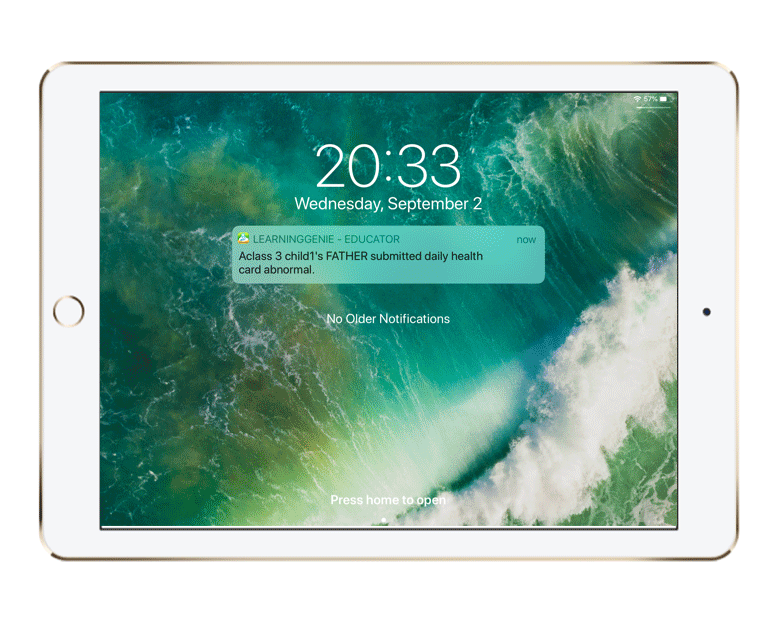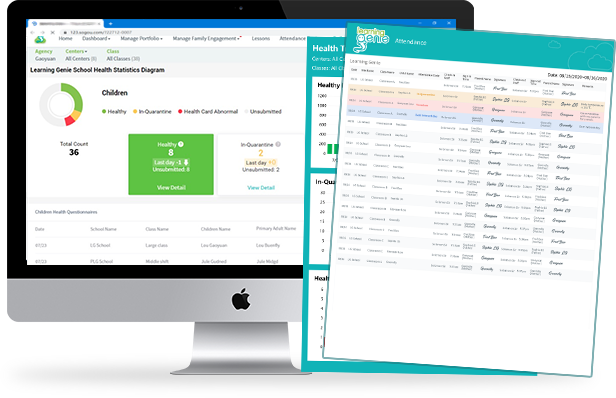 Health Dashboard
Drill Down by Location

Assess Student/Staff Wellness

Access District Wide Health Data

Execute Tasks with the Action Framework

View Contact Tracing

Access Template Wellness Screenings Based on CDC Guidelines

Customize Screenings to Meet District Needs

Send Screenings Securely to Assess Student and Staff Wellness and Readiness to Return

Gather Insights to Inform Reopening Strategies and Class Scheduling
Learning Genie is fully HIPAA and FERPA compliant
Learning Genie provides secured access controls to users with rights and/or privileges to access and perform functions using information systems, applications, programs, or files.
Learning Genie enables encrypted all storage and database using AES-256 encryption through the AWS.
Learning Genie employs HTTPS encryption through out all possible data transfer nodes to ensure the integrity of the data.
The data transmission between client devices (mobile or webportal) and the AWS cloud server employs HTTPS (SSL/TLS) protocol.
More HIPAA compliance document can be found here.

SIS Roster Integration Ready
Roster Integration Using OneRoster Standard-compatible with any Student Information System such as Aeries, PowerSchool, Infinite Campus, and other rosters that can be exported into CSV format. We enable fast teacher and parent onboarding experience.

Learning Genie Partners
Learning Genie is committed to provide high quality product and services to early childhood educators. We are currently a proud partner of 40+ College Lab Schools/Centers in California, including San Diego City College Child Development Lab Center, Fullerton College Lab School, Long Beach City College Lab School, Bakersfield College Lab School, and Napa Valley College Lab School, to name a few. Learning Genie is also a proud partner of San Diego AEYC and Florida AEYC.