We highly recommend downloading the Learning Genie Parent App, to view your child's daily report. This can be downloaded from either the Apple App Store for iPhone and iPad, or Google Play Store for Android phones and tablets.
To create your parent account you must receive a code from you schools to be able to log in and view your child's Daily Reports.
1.Once you have your parent code.
2.Download the parent app on your device.
3.Once you have downloaded you can sign in with your parent code.
4.You can add your email and password during the next step.
5.Now you are connected with your students daily reports.
If your child's teacher is using the Learning Genie "Daily Report" feature, you can see all of the amazing things your child is doing in class as they learn and grow. There are three ways to see your child's daily report.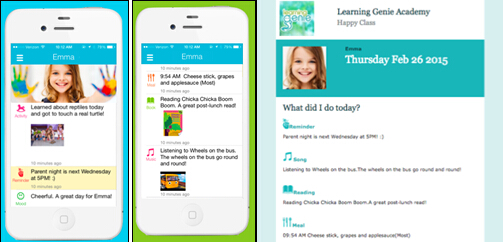 *Via Email:
If your child's teacher has input your email into your student's account, or you have used your email to sign up with Learning Genie using a "parent code" obtained from your child's teacher, then you will receive a copy of the daily report items in your email in-box.
*The Learning Genie Parent App:
Once you have received a "Parent Code" from your student's teacher you can download our learning genie parent app from either the app store, or Google play store, depending on your device. Upon signing up, you will be prompted to provide your parent code. Once this is complete, you will be able to see the daily report displayed in the parent app.
*The Web Portal:
If you have received a parent code from your child's teacher and do not have a smart phone or tablet, you have the ability to sign up in the Learning Genie web portal, (In the upper right hand corner of the website homepage). *note* This will only allow you to begin receiving email updates. You are not able to view the actual daily report, by signing into the website.
Currently there is not a library where all Learning Genie photos are stored in your account.
No problem! We have created the app so that you can access multiple student's reports through the same account. While in the app, simply tap the icon in the top left corner to access the sidebar. You will see an option that says "add another child." Simply tap that option and enter the code you received from that child's teacher. You will now be able to tap on your child's name at the top of the report to toggle between children.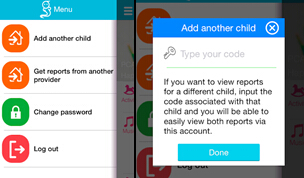 Yes! You will receive two different codes from your child's teacher when signing up. This allows for two separate parent accounts to sign up for updates on the same child. If you have additional family members who want to set up an account, contact your child's teacher about receiving a new code.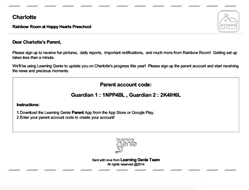 If you can't find the answer you're looking for here in our FAQs, feel free to reach out to a friendly Support Genie at (760) 576-4822 or help@learning-genie.com.
No, unfortunately parents can't change their email through their app for the protection of the students information. To do this you can:
1.Contact your teacher to change your email.
2.This will generate a new parent code for you to sign up again with.
3.You will still be connected with all of your child's information and all daily report emails will be sent to the new email you have provided.
The only people who have access to this information are: you, any teacher who is part of that same classroom and the center director who holds the Admin account for the app. Learning Genie does not sell any personal identifying information about its users or children.
It is possible that the teacher's email reports are being blocked by your email service. Check your spam folder and filter. Additionally, if you signed up for the Parent App with a fake or incorrect email address, you emails may be going there instead of to you. Make sure to use the email address you would like to get the student reports sent to when you sign up for the app. If neither of these are the case, please contact us at help@learning-genie.com.
No worries contact your child's school and let them know that your code isn't working!
1.Check and see if you have matching codes with the code that the teacher has for you.
2.If this isn't the case please contact help@learning-genie.com and we can fix this for you.
Hooray! We love your feedback and ideas. Contact us at help@learning-genie.com or call us at (760) 576-4822. We are always improving our app and will try our best to accommodate your suggestions in our next update.
We also strongly suggest that you join our Learning Genie Parent Ambassador Facebook group. This is a private group where we ask questions and discuss ideas to improve the app.