Learning Genie School Communication and Distance Learning Grant for Existing FE Users
As many agencies are facing closure due to the COVID-19 virus, we offer the following plan for agencies to use the Learning Genie family engagement feature in order to communicate vital information quickly to families, and continuously educate families and children while they're out of school.
For existing Learning Genie customers, Learning Genie will offer 1 month of credit through the 2021-2022 school year, or 4 free slots at a Learning Genie Certified Trainer Workshop.
School Message
Communicate any major announcements, along with attachments, using the School Message feature, found under Manage Family Engagement. This will allow you to reach every family at once, or target specific families or groups of families. They will receive the information in their app as well as email, and the app will translate the message for families as needed. Track the open rate of messages using the Message History tab.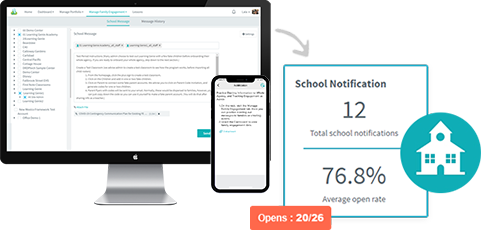 Two-way Messaging
Encourage teachers/home visitors to be available to families through two-way messaging. This may be necessary for coordination of visits or meetings when schedules are disrupted. It will also be useful to address any individual questions from parents during this chaotic time.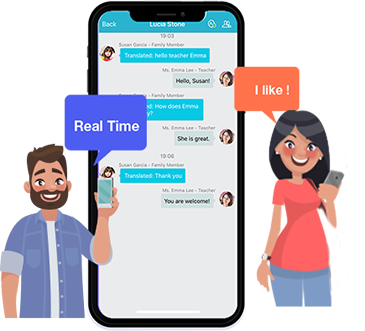 Learning Media Channels
Peruse the Learning Media channels to find content that will be pertinent for families while they're at home with children. The "How to Beat COVID-19" channel contains videos educating users about hygiene specifically regarding this virus, but there are also many other videos regarding parenting tips, which parents may need more help with as children are home.
Use the search bar if you would like to search the web to find videos on particular topics.(Coming soon: create your own customizable channels!) You can also send home examples of activities families can do at home that enhance specific developmental domains! See images below as examples that were sent by Adria Galarza at Lake Elsinore Unified School District!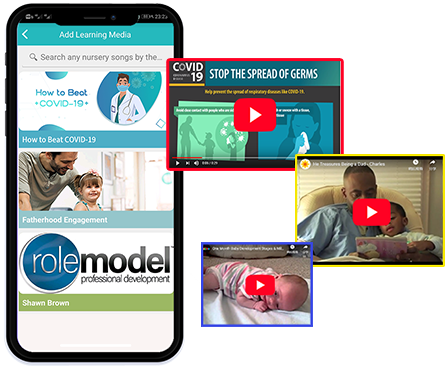 Events
Once school events start up again, teachers or admins can create events on the app (under Other) or on the web (under Manage Family Engagement). This will allow you to track RSVPs and send reminders remotely.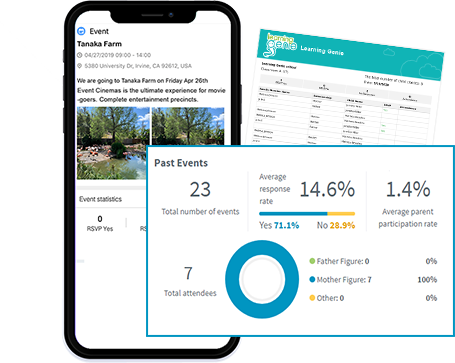 Approaches to Learning
Work on your Child's ILEP/IEP goals (Developmental Goals will vary due to individual goals written for LLP/IEP.)
Practice'smelling the flowers' (deep breath in slowly) and 'blowing out the candles (slowly breath out) for sell-regulation.
Check out books about preschool (beginning of year) or kindergarten (end of the year) & read with your child; ask why, what, & how questions.
Show excitement about your child attending school and ask them to tell you about their day.
Memory game (letter/color/shape cards). Select six sets of matching cards, face down & take turns turning over 2. Match you keep them, don't match turn. them back over next persons turn.

COVID-19 Daily Schedule
Remember to record your daily activities and developmental goals on the Learning Genie app! TOGETHER EVERYONE ACHIEVES MORE!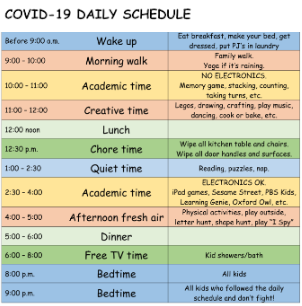 What to do with your children?
Get to know them again. Teach them a trait. Ask them what they'd like to learn. We can't change this situation so, make it as stress-tree and enjoyable for both of you and your children. Stay safe.
Cooking
Gardening
Sewing
Wood working
Working on cars
Work on their Developmental Goals through the Activities provided on this page
Approaches to Learning
Social and Emotional Development
Language and Literacy
Cognition
Physical Developmen

Social-Emotional Development
Talk with your child about things they like best about school and share what you like. Ask 'why questions.
Do a scavenger hunt game with your child, Have them find various items around your house as you name the item. Make it more challenging and describe the item without naming it for them to find (red with a spine and pages in the middle – book).
Ask your child to tell you what they did at school today and what was their favorite part of their day.
Make up a story with your child using family members as characters. Use a familiar story and substitute family member's names.