Learning Genie's College
Partnership Program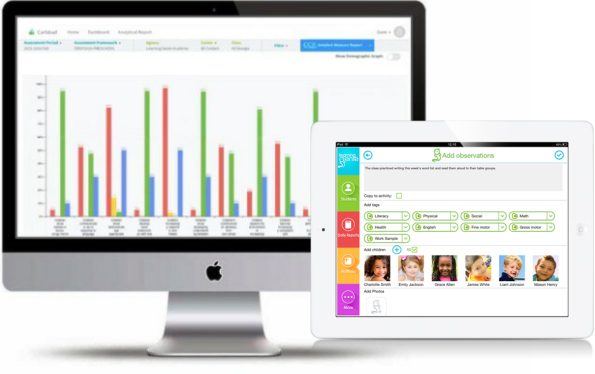 What We Do
Learning Genie is a digital tool for assessments and reporting in Early Childhood Education, as well as family engagement. Our goal is to drive personalized learning based on children's individual strengths and needs. We have formed partnerships with 100+ global college lab schools across the nation and would like to extend this excusive opportunity to college lab school partners.
Benefits
For Global College Lab Schools:
Cutting-edge technology for classroom observations and state-required assessment reporting
Allows for easy interactive family engagement
For College Professors:
Provides a digital tool for students to record practicum observation assessments
Monitor all reports and student progress along the way
Provide more timely feedback
Easily print final reports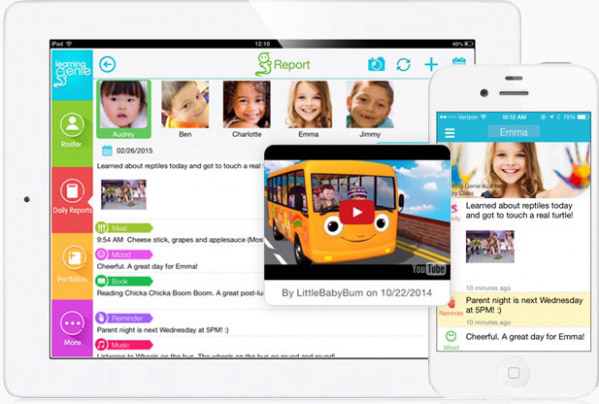 Evidence-based Portfolio & Assessment Module
This module enables easy collection and tracking of child assessment data including child observation notes with evidence, auto-generation of digital portfolios, assessment ratings, progress tracking, and class planning for group and individualized instruction.

It also includes a Dashboard for monitoring assessment quality and progress.
Reflective Planning Module
This module provides a rich library of age and developmentally-appropriate Lesson Plan activities, aligned with the State Preschool Foundation (California, Illinois, Missouri, and many more).

Agencies can build and customize agency-wide lesson plan libraries and share them among teachers.

The interactive weekly lesson planner enables teachers to plan group and individualized lessons linked to assessment and child development insights.

Lesson plans can be shared among teachers, creating a "virtually shadowing" opportunity for new teachers to learn the planning process from model teachers.
Family Engagement Module
This module provides an all-in-one data-driven Family Engagement tool featuring two-way messaging with families with auto-translation to 100+ languages, video book, and digital learning media library, sharing of lesson plans and activities, at-home learning portfolios, school notifications, reminders, and virtual/onsite event management.

It also includes a Dashboard with real-time data insights and reports on how families are engaged for continuous quality improvement.
Dual Language Learning Module
This module helps agencies to fulfill the California AB1636 and Head Start standards required to deliver high-quality programs for dual language learners.

It's built-in with dual language video book channels supporting multiple languages.

It also enables teachers to conduct multi-language vocabulary lessons and engages parents to support children's home language and English development with at-home learning activities.

All data are presented in a DLL dashboard for administrators to analyze and report progress and impact.
How Our College Partnership Program Works
What You will Contribute
Enrich the Network of the Partnership Lab Schools by sharing your best practice and showcasing your innovation.
Feedback/Advice for Program Improvements on evidence-based assessment, reflective curriculum/lesson planning, and dual language learning in the classroom.
Useful Case Studies

What we will provide for you.
A global network of College Lab Schools with culturally responsive and ECE innovation in practice.
Academic Free Accounts- for Practicum Class or Lab Center Use.
Webinar Training for Admin and Support.
Digital Early Childhood Educator Certificate.
Simply sign up for your account through our site for free. Be sure that you use your .edu email to qualify for the College Partnership program. We look forward to working with you!
Have Questions? Need Help? Our Support Team is here for you. help@learning-genie.com 760-576-4822
–>